There's no one like Hrithik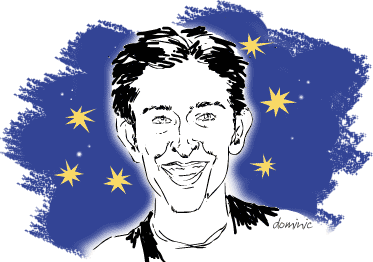 He has the Midas touch.
He stars in any movie, it makes considerable money.
He lends his mug to notebook covers, kids swarm the nearest stationary shop.
He plays benefit cricket, he is compared to Sachin Tendulkar.
He gets married, the media go crazy.
Even the fact that Little Italy in Bombay's Juhu is his favourite joint creates a flutter.
Whether it's about generating mass hysteria or simply being every woman's dream, Hrithik Roshan wins hands down. Ask Calcutta.
Funny thing is, even when he doesn't do anything he manages to create headlines. Courtesy: mischief mongers in Nepal and South Africa.
What I am driving at is, there is no one like Hrithik. Look-wise, talent-wise, luck-wise, attitude-wise.
He has that extra something -- and no, I am not talking about his sixth finger.
No contest, no concert, no pageant, no award function (wherein he sweeps all the awards, be it for newcomer or best actor), no inauguration is complete without him.
Of course, the advertising world capitalised on his success. The pioneer was Coca Cola. Soon after Kaho Na Pyaar Hai, one saw a splurge of Coke commercials featuring the star.
Pepsi was not far behind. Since they couldn't have Hrithik as an object of affection, they made him a dartboard. Remember that infamous ad? It wasn't in good taste, that's for sure, but it worked all right.
Soon, Archies released Hrithik posters without his consent. Result: an agitated Pa Roshan slapped a suit on them.
All of which goes to prove that Hrithik Roshan sells. Better than hot cakes. He's your shortcut to success.
Which reminds me of the press conference that toothpaste Close-Up arranged to unveil a 'Sky contest with Hrithik'. The 30 winners would get to share a flight with him.
No one was least bothered about the press conference. Not that it was badly organised or anything. But Hrithik was on everyone's mind. Journalists were only interested in knowing if he would put in an appearance.
Commonsense told me he would not: It was February 14, Valentine's Day for the cave-age types. And I was certain that the newly married Duggu would prefer to spend time with wife.
I was right. He didn't turn up, but the Crystal Room in the Taj was full. Wow! Now if that isn't popularity, what is? The mere mention of his name on the invitation card was enough to draw even weathered newshounds.
Hrithik has the film industry, the masses, the press, the ad world, all eating out of his hand. What makes him so popular? What does he have that other actors don't?
He's got the intensity of Shah Rukh Khan, yes. The perfectionism of Aamir. A physique like Salman. But he is not an assortment of the Khan trio. There is more to the Hrithik mystique.
Though very down-to-earth, he has ceased to be mere mortal. He has become the synonym of success.
The elusive quality called charisma that defies all logic and reason, which nobody has been able to explain as yet, seems to be behind this enigma called Hrithik
As long as he has it, he'll continue to sell. So adieu till the rise of the next superstar.