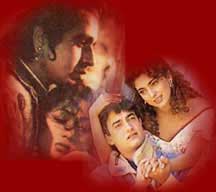 In the movies, love is forever.
Passion is tangible, the lovers immortal.
Who can imagine Awara without Raj Kapoor and Nargis?
Could anyone but Dilip Kumar and Madhubala have played the legendary roles of Salim and Anarkali in Mughal-e-Azam?
Can anyone conceive Sholay without Dharmendra and Hema Malini?
Not in a million years!
At most times, the attraction is unreal. And it ends with the movie. After all, the actors were merely doing their job. Sometimes, the chemistry isn't an act.
But at all times, no one can question the magic that is created, even if it is ephemeral.
Text: Sukanya Verma. Design: Lynette Menezes