Comment:
Though the title is maayaa bazaar, never is the word bazaar used in the movie!! The whole film revolves around the paanDavaas but they are not shown anywhere in the film. The screenplay was so neatly written that this fact usually goes unobserved.
Actually two music directors worked for this film. Three songs ('laahiri laahiri', 'coopulu kalasina Subha vELaa', 'neevEnaa nanu pilacinadi') were composed by S.Rajeswara Rao, while the others were composed by Ghantasala. Ghantasala is said to have done the orchestrization and recording of these songs though Saaluri composed. That's why only Ghantasala's name appears in the credits.
There was a talk that Tapi Dharma Rao and Aarudra were the dialogue writers contrary to the popular belief about Pingali being the dialogue writer, though the truth remains unrevealed.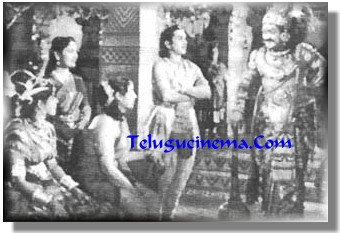 According to a survey conducted in 1996 by special edition of India Today mAyAbazAr is named as the most outstanding movie ever made in the history of Telugu Cinema industry. This became the baseline for all future movies in all fields. The Film mentions gOngoora pickle, a very favorite pickle to the Telugu people of all times. The dialogue writer Pingali hails from Bandar (Machilipatnam) and very convincingly was able to integrate gongura into Mahabharatham.
R.Nageswararao who played duSSAsanuDu has the recurring dialogue "adE mana takshaNa kartavyam". Only on a couple of occasions does he have a line that does not have that phrase in it. It became quite a catchy phrase among the youth of that era.
Balakrishna (anji) has dual role. One is 'saradhi' and the other one as dwarapalaka who will fall down seeing Ghatothkacha.
In one of the year book of 'Sitara' a special article about this film under the heading 'Vijaya Vaari Vennela' appeared, which details many interesting things about this film. Director KVReddy has a habbit of introducing a song, padyam or dialogue at the end of his films saying whoever watches/hears the film's story will prosper. A similar padyam in this film is the last one 'Jai Satya Sankalpa'.
Actor Gummadi recalls that K.V.Reddy tried to show the similarities of the noses of both NTR and Gummadi in one shot so that it establishes the resemblence of the relationship of brothers.
A few new words coined in this movie namely: 'alamalam', 'gilpam', 'tasmadeeyulu' etc. Also a few words ('paravesadawaram', 'asamadeeyulu') were modified to generate comedy.
The Song Lahiri lahiri lo is done in three different locations in three different timings. But we don't see the difference. Part of the song was shot in an indoor studio, at noon!!
The introduction of Savitri is done on a single shot - young SaSirEkha sitting near the water, camera pans on water and Savitri is shown. When ghatothkacha lands on the mountain (to fight with abhimanyu) a small piece of the mountain is shown to have fallen down. This is shown to establish the weight of the rakshasa, such minute details were aso taken care of! The trick shots of gimbaLi and gilpam are done so neatly they still discuss about it even now.
This film was made with 26-30 lakhs, that's almost double to what was a normal budget at that time!!
This film was made more than ten times in all languages. A list of all those movies follows:
Mayabazar aka Sureka haran (1925) silent movie with Santaram as a hero under Baburao Painter's direction.
With the same name released in 1932 under the direction of Nanubhai Patel.
Tamil version under R. Padmanabhan direction by name mayabazar aka Vatsala Kalyan.
Telugu version under P.V.Dass direction Mayabazar aka sashirekha parinayam 1935 where Shantakumari played the role of shasirekha.
Marathi version G.P.Pawar's Mayabazar (1939)
A bi-lingual in hindi and marathi under Dharmadattadhikari's direction mayabazar aka vatsala haran (1949).
Nanabhai bhat's vira ghatogaza aka surekha haran (1949) where Meena kumari played the role of shasirekha.
Telugu, Tamil bi-lingual Mayabazar (1957). This was dubbed to hindi in 1971.
Bhabubhai mistri's mayabazar in 1958. heroine is anita ghua. This film was dubbed as veera ghatotkacha to Telugu, Tamil and Kannada languages.
Hindi version titled veera ghatotkacha by shanty lal soni
Babubhai mistri's mayabazar (1984) in hindi, gujarathi in color.
Finally Dasari Narayana Rao made this film with social characters with the name maya bazaar (which was a dud at Box Office), though he tried stunts like "clap by K.V. Reddy" for the shooting, to attract the industry and the viewers.

This film is based on a very popular dance drama known as "SasirEkhaa pariNayam" (aka maayaabazaar) performed by drama troupes from Dharwad. However, the popular song vivAh bhOjanambu was taken from 1939 version of the film. These songs were later used by the famous Surabhi group on several occasions.

The Telugu version is released on 27th march 1957 and the Tamil version released in 14th april 1957, and both of them were big hits.

Acknowledgements: Srinivas Parachuri, VAK Ranga Rao, Ravi Kondala Rao.

For the story of mayabazar by NaChaKi click here

-by Tippi