| | | |
| --- | --- | --- |
| Year | Nandi Category | Film |
| 1997 | Best Actor | Annamayya |
| | | End of Nandi Awards Table |
Biography:

Nag, son of the Ever Green Hero Akkineni Negeswara Rao, needs no introduction. Nag's foray into films is an act of passion. Vikram(1986), his debutante film (a Telugu remake of Hindi Hero), made a splash at the hearts of youth. Being just 4 films old he proved that he can match his father's image as a tragedy king with a lovely film called 'Majnu'.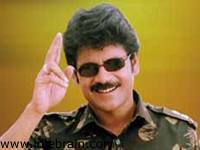 He developed the strategy of inducting debutante directors to his films with Sankeertha. Though this musical saga did not sustain at box-office, Nag has gone a step ahead as an actor.
He paired up with his legendry father Sr Akkineni to produce 'Collectorgari Abbai'. But it was the Midas touch of Aswini Dutt that proved Nag's Box-office credentials. For the first time he paired up with Sridevi, who has done innumerable films with Nag's father Nageswara Rao, in the film 'Akhari Poratam' that ran for 100 days in 12 centers.

It was 'Geetanjali' that has taken Nag's image as a romantic hero to new heights. Deft direction by Manirathnam and crafty camera work by PC Sriram added to necessary gloss to the romantic image of nag. If you think Geetanjali is a big hit. You are in a soup. Because the box-office magnitude of 'Geetanjali' appears minuscule compared to the stormy film that followed which has taken all the youth's heart away. 'Shiva' gave Nag much needed action Hero image and Nag made inroads into the hearts of students. Ultimate winner of 'Shiva' is none but Ram Gopal Varma, a raw director. It was the Nag's risky decision to employ a video operator as the director for his home production that did the trick. All the scorning critics who criticized Nag for his decision to choose Varma during the production of film are silenced by it's stupendous success.

Fueled by the success of Shiva, Nag made a grand entry into Hindi filmdom with the remake of 'Shiva'. If you think Nag is fond of Shiva just because it changed the pace of his cine career, you are mistaken. This film has also got him Amala, his soul mate.

After the storm of Shiva, there was a period lull for sometime. Again Nag stormed with 'President gari pellam'. And his heavy box office romancing continued till Hello Brother. Hello Brother showed the stamina of Nag at box office by running in 28 centers. His comic antics are best exploited by the director EVV. With this film Nag's portfolio of acting is enriched with a useful ingredient called comedy.

Again the period of lull continued for few years till he spotted another creative director in making, Krishna Vamsi. Nag paired up with Vamsi to produce one of the biggest Telugu romantic blockbusters, 'Ninne Pelladatha'. After this film Nag faced the biggest challenge in his cine career. That is to act as Annamayya, the legendary singer/poet of Medieval times. And Nag came out flying colors. Talk about the result. It ran for 100 days in 42 centers. He has become a household demigod with his presence of 'Annamayya'.

Every good thing in life comes with a few sacrifices. He wanted to get rid of sacred 'Annamayya' image and wanted people to accept him as a romantic hero. He produced a string of romantic films later. All of them disappointed him at box-office and he went through the same kind of lull he had after 'Shiva' and 'Hello Brother'. All his fans waited in an unabated breathlessness for him to produce a film of Shiva magnitude. And Nag did not disappointed them. He came up with the blockbuster of the year, Nuvvu Vastavani. The super good film's caption for this film, 'We don't break records ... we create records', seems to be very appropriate for Nag.

Nag is called as the celluloid scientist. He is best talent spotter around. To his credit he blooded Geetha Krishna, Ram Gopal Varma, Uppalapati Narayana Rao, Praveen Gandhi, VR Pratap and Jonnalagadda srinivasa Rao. He offered a new comer Krishna Vamsi just by looking at a 5 minute rushes of 'Gulabi'. Nag will be known as the person who changed the mindset of industry with his creative thinking. He encouraged the new technology in his films. And others followed him.